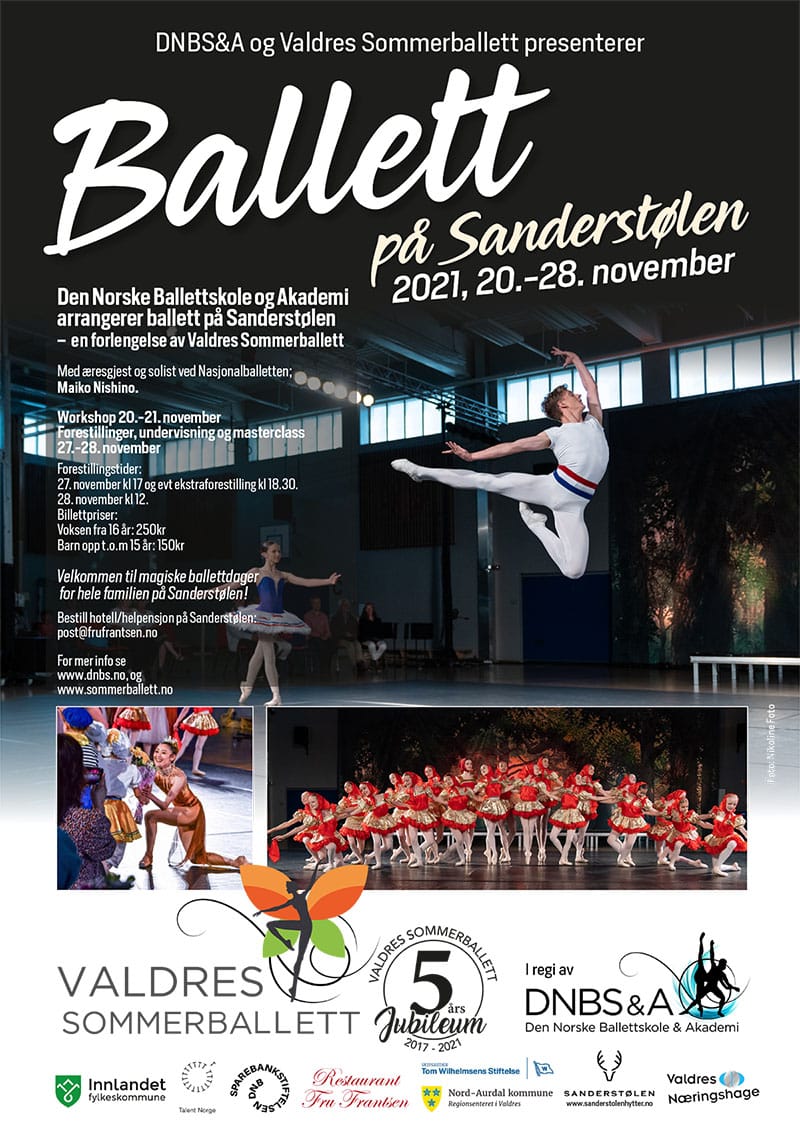 I anledning Den Norske Ballettskole og Akademi(www.dnbs.no) sitt forsinkede 15 års jubileum og Valdres Sommerballett (www.sommerballett.no) sitt 5 års jubileum, inviterer vi til forestillingene på Sanderstølen helgen 27.-28. november og workshops med masterclass og forberedelser til forestillingen 20.-21. november samt trening/masterclass forestillingshelgen.
Workshops/undervisning er gratis!
Æresgjest ved dette prosjektet er ballettdanser og solist Maiko Nishino ved Nasjonalballetten.
Ta kontakt med irene@dnbs.no dersom dette er noe du vil være med på. Del gjerne denne unike anledningen også med andre talenter.
På Sanderstølen kan hele familien hygge seg med både ballett og andre aktiviteter. Her kan bassenget og badstuen benyttes gratis, det er milevis med flotte skiløyper. Det er herlig matservering og overnattingsmuligheter.
Workshop/undervisning 20.-21. november:
Elevene deltar på workshop både lørdag og søndag
Workshop tidspunktet for undervisningen blir satt opp en gang mellom kl 12-18.
(eksakt tidspunkt kan vi sette nærmere når vi vet hvor mange som blir med)
Gruppe 1: Alder 1-2 klasse, ca 6-8 år
Gruppe 2: Alder 3-4 klasse, ca 8-10 år
Gruppe 3: Alder ca 10-13 år
Gruppe 4: Alder fra 14 år.
Workshop/undervisning/masterclass og forestillinger 27.-28. november:
Tidspunkt for workshop/undervisning og sceneprøver kommer vi tilbake til. Forestillingene varer ca 1 time.
Forestillinger lørdag 27. november:
Forestilling kl 17
Eventuelt setter vi opp ekstra forestilling kl 18.30
Forestillinger søndag 28. november:
Matinéforestilling kl 12.
Pris for billetter:
Voksen fra 16 år: 250 kr. Barn 3 til 15 år: 150 kr.
Gratis: barn til og med 2 år.
Link til billetter kommer snart.
Vil du spise lunch og middag på Sanderstølen, 20.-21. november, og/eller 27.-28 november?
Pris pr person: 350 kr pr dag. Skriv til post@frufrantsen.no for bestilling av buffet.
Vil du overnatte, evt med helpensjon på Sanderstølen, 20.-21. november og/eller 27.-28. november?:
Pr. natt – pris for Weekend
Enkeltrom 1200 pr. person – 2400 pr. person
Dobbeltrom 900 pr. person – 1800 pr. person
3 mannsrom 800 pr. person – 1600 pr. person
4 mannsrom 700 pr. person – 1400 pr. person
5 mannsrom 650 pr. person – 1300 pr. person
Hytte 5 pers 750 pr. person – 1500 pr. person
Alle priser er pr. person inkludert helpensjon
Booking via post@frufrantsen.no for bestilling av rom/helpensjon. Spør Sanderstølen om hvilke avbestillingsregler de har.
****
Valdres Sommerballett is a summer school of classical ballet for young talents in cooperation with Valdres sommersymfoni, with fantastic ballet performances. It is organized by Den Norske Ballettskole & Academy. Valdres Sommerballett will be held for the sixth time in 2022, the period is 22nd of June – 29th of June. Soial gathering and information will be held 22nd of June and classes already that same evening. There is a party on 29th of June to celebrate this years Valdres Sommerballett. All students and their parents can stay at Sanderstølen hotell, have ballet class and eat three meals a day – all under the same roof. It will be a wonderful oppportunity this year! Hand in your application within 1st of February.
Photo of the poster of 2021 was: Ole Henrik Kalviknes.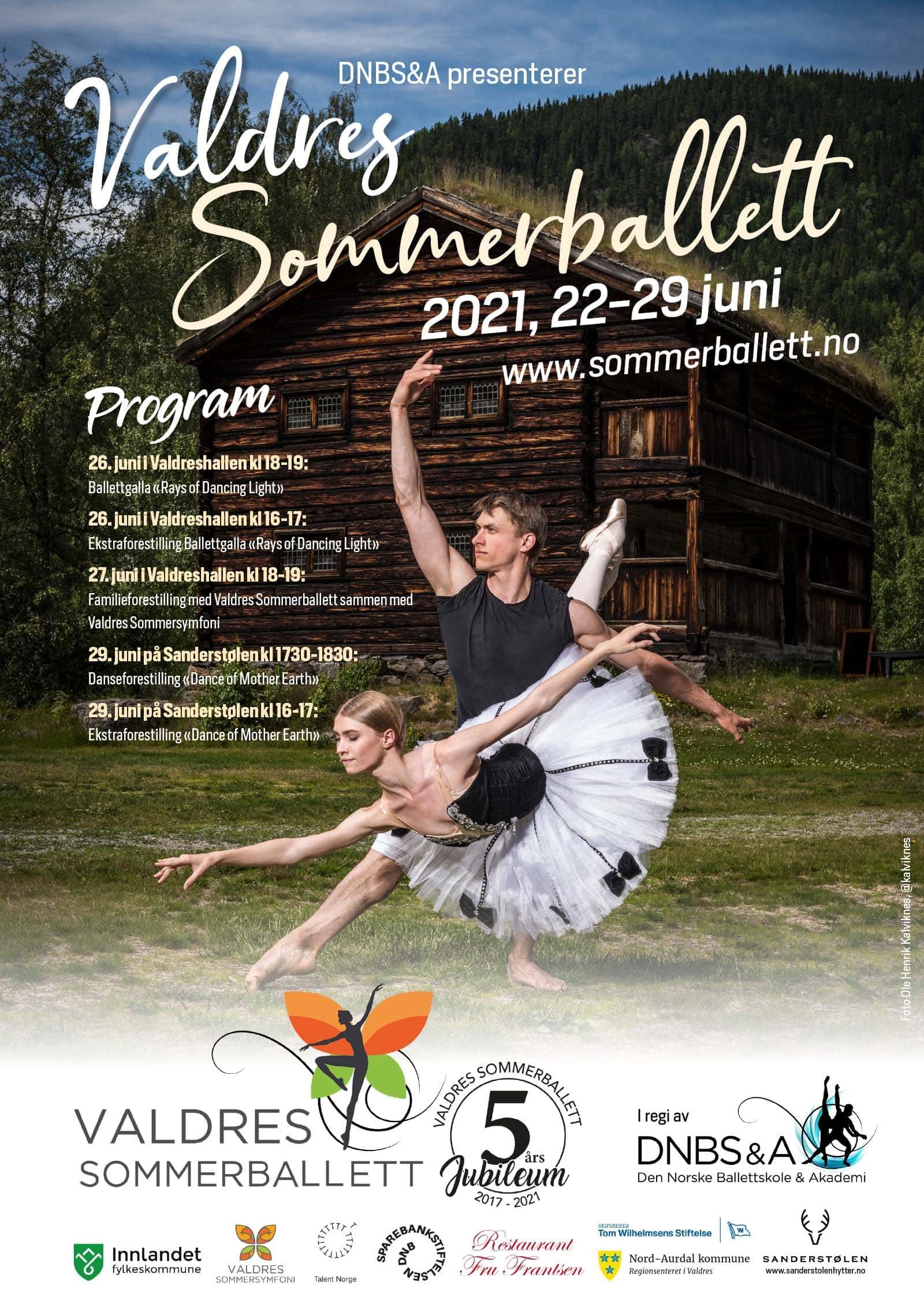 Norwegian and international ballet talents are gathered for professional training and inspiration from fellow students, pedagogues and ballet personalities.  The summer ballet in Valdres is looking back on the success of the summer school in Hemsedal in 1997, 1998, 1999 and 2000 to bring forward Valdres Sommerballett in the same manner.