DNBS&A has since 2009 continued the courses of the theater school "Cap à Pied" that Håvard Engell managed for more than 20 years. DNBS&A is continuing this legacy and are offering a wide range of courses within the genre of dance/theater. Singing can also be included in classes like musical dance.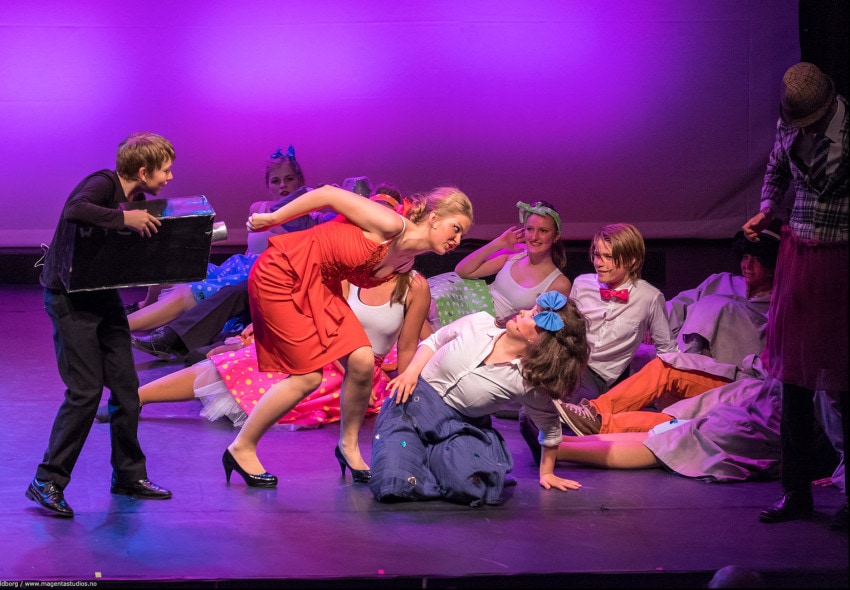 Within dance/theater you will work with different techniques, like improvisation, role play, techniques to develop your voice, preparation for performances. We follow the students talent and level, fantasy and creativity. Song, dance and movement are elements incorporated into theater. The goal is to increase the self image. Everybody shall feel that they are challenged and feel they succeed. We have courses for the  youngest and those who wants to enter one of our student crews, like "Mini teater/musikal", "Musikal jr" and "Musikalgruppa" for students from the age of 13-18. The last mentioned crew has audition each June.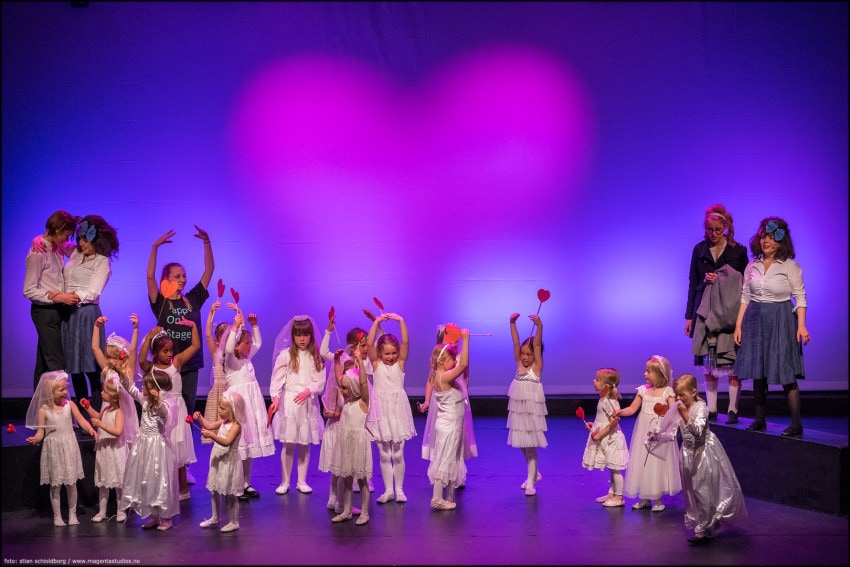 Kurs innen dans/teater:
Oppstart: uke 35 for høsten 2021.
Varighet: 15 uker
Treningstøy: Valgfritt treningstøy som er behagelig å bevege seg i
Alle gruppene deltar i våre forestillinger hvert semester.
Pris:
45/60 min kurs en gang i uken: 2490 kr.
90 min en gang i uken: 3290 kr
Musikalgruppa med påmelding for ett helt år, se mer info under her om treningstidene: kr. 7500 pr. semester, totalt kr. 15.000 for året
Teater/dans Folkets hus på Kjelsås, Myrerveien 40, man kl 16.45-17.30, 3-5 år
Teater/dans Folkets hus på Kjelsås, Myrerveien 40, man kl 17.30-18.15, 6-8 år
Teater/dans Folkets hus på Kjelsås, Myrerveien 40, man kl 18.15-19.00, 8-10 år
Pedagog: Ane Eikemo
Musikal jr, Hasle skole adr Hovinveien 48 A, 0576 Oslo., tirs kl 18.30-20.00, ca 11-13 år
Pedagog: Margret Erlendsdottir og Karin Gjørv Røraas
Musikalgruppa, i Grensevn., dans/teater 13-18 år (se egen pris over).
Audition årlig i juni.
Pedagog dans man kl 19.15-20.45: Guro Karijord
Pedagog teater tors kl 17.30-19.30: Linda M. Andersen
2-3 øvingshelger som fastsettes ved hvert semester.
Pedagog i sang: Amalie Kvaksrud
Teater/dans Folkets hus på Kjelsås, tirs kl 16.45-17.30, 11-12 år
Teater/dans Folkets hus på Kjelsås, tirs kl 17.30-18.15, 6-8 år
Teater/dans Folkets hus på Kjelsås, tirs kl 18.15-19.00, 9-11 år
Pedagog: Guro Karijord
Musikaldans Bergtunet Barnehage, dramarommet, tors kl 18.00-18.45, 5-7 år
Musikaldans Bergtunet Barnehage, dramarommet, tors kl 18.45-19.30, 9-11 år
Musikaldans Bergtunet Barnehage, dramarommet, tors kl 19.30-20.15, 12 pluss
Pedagog: Nami Aam